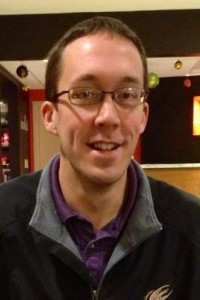 For those who care: This is my space. My personal web space. The corner I occupy in our online world. Well, one of the corners, if we're to assume that we present ourselves differently in different places all the time. I love the web. I love Twitter, in particular, but I still find composing prose in the middle of a WYSIWYG editor a bit cold and detached. Writing should be more intimate. This doesn't feel entirely intimate. But perhaps that's a discussion for a different time in a different online space.
All that is merely prelude to a welcome. As in, "Welcome to my website." What will you find here? Links with information to courses I've taught and am teaching (Multimedia Journalism and Media Writing), to information about my professional and personal lives and to information about how you might contact me. If you need to contact me.
That photo to the right? 'Tis I on the evening of my 30th birthday. That was back in December 2012, but didn't times seem simpler then? I guess times always seem simpler, when viewed through the lens of the past. Over to the right, you'll see my tweets. They come from @cmdonohue. I tweet about many things, many things that aren't always of much consequence to the larger world around us. But they're important to me. I also tweet some substantive things for the benefit of my students. You'll also find links to my other social media presences at the top of the page. Find me, connect with me, be a part of my virtual community. As Kurt Vonnegut once wrote, "What should young people do with their lives today? Many things, obviously. But the most daring thing is to create stable communities in which the terrible disease of loneliness can be cured." So come along. Let us not be lonely together.
And enjoy your stay.